Author: Chichi
Confession: I confess that I am a daughter of the most High God and my Heavenly Father sent His only son Jesus Christ to die on the cross that my sins have been forgiven. Based on this sacrifice I try to be the best version of me which requires feeding my soul with the word of God.
Life is amazing! It's easy to preach and be merry until stuff happens, then what? Am I still merry and preaching?
It all depends on where I am spiritually when stuff happens, have I been feeding my soul, praying, exercising, on a daily basis? If I am feeding my soul regularly my reactions and thoughts are slow, well thought out and peaceful. When I have starved my soul my reactions are fast, impulsive and regretful. So why do I slack off from feeding myself? Because it takes work and I get so tired. So weak, so tempted.
A few months ago my church Pastor JJ talked about "Gods purpose through tribulations".
Tribulations are pressures we go through in life, which make us stronger and weed out the negative things in us. Perseverance is passing through the journey with peace and faith. Character is brought on by perseverance. Character is acting Christ like when stuff happens. Sometimes we face the same challenges until we have learned the character God wants us to inherit. Through character we learn Hope. Hope is trusting that God is in full control in ever situation.
Funny how temptation comes at important times in life. I can only keep praying God will send his messengers to feed my soul to keep my perseverance through tribulations. This morning I opened my daily message from Joel Osteen titled "Refuse Bitterness"(see picture below). I also spoke to my mom who is FULL OF CHARACTER. God has a way of feeding the soul even when I am slacking and I am truly grateful.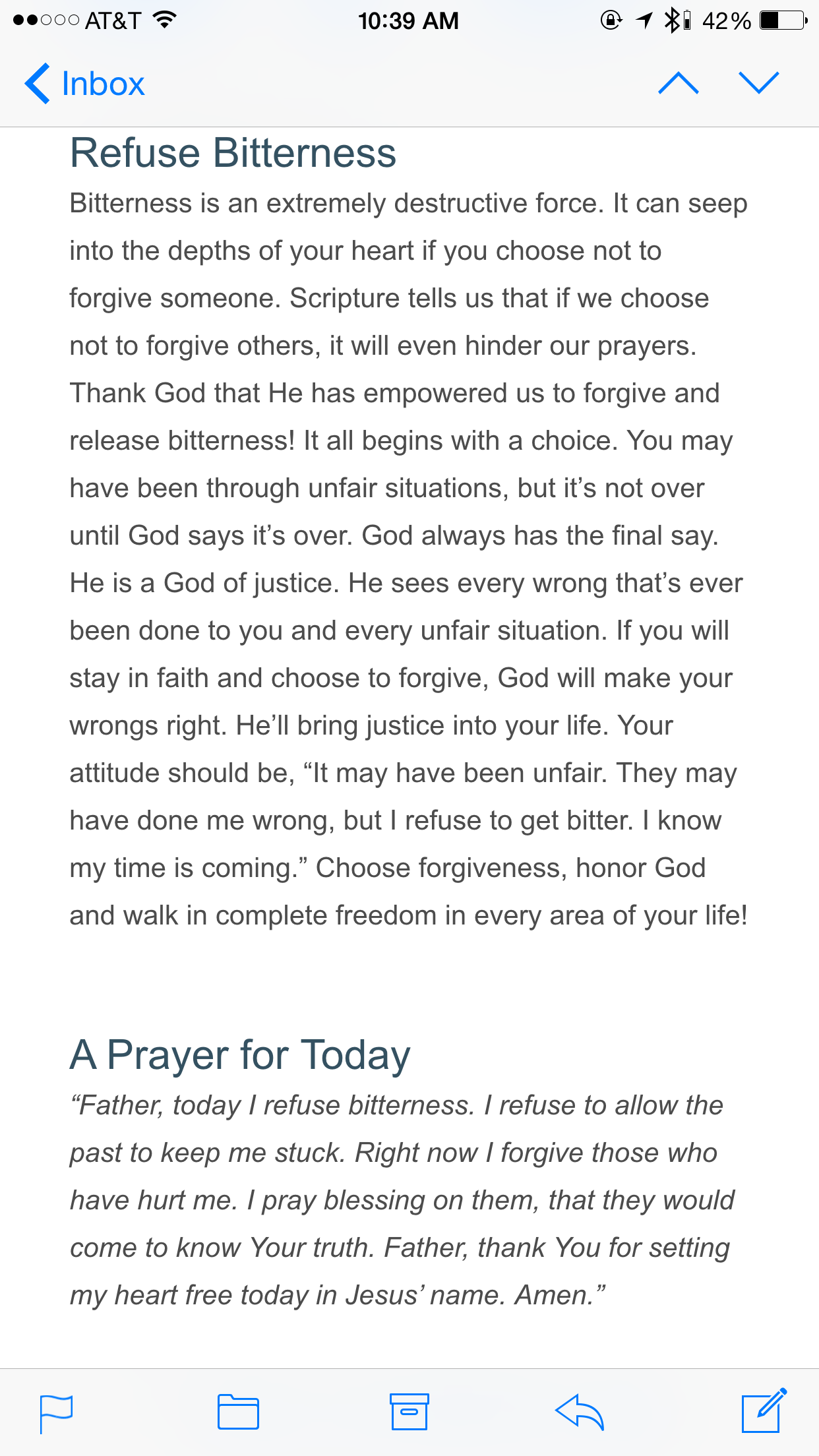 Don't run away without leaving a comment, please share and drop a note don't forget to join our facebook community!